Understanding the different characteristics that make each diamond unique is instrumental to finding the diamond of your dreams.
Whether you are searching for the perfect diamond for your engagement ring or choosing the perfect setting for an heirloom diamond, it's important to understand the different characteristics that make each diamond unique. Let's dive into popular diamond topics, such as the 4Cs of diamonds, so you can feel confident having a conversation with your jeweler about the essential qualities that determine a diamond's value.
The 4Cs of Diamonds
You may have heard of the 4Cs of diamond quality, a globally accepted standard for describing diamonds created by the Gemological Institute of America®.  These qualities — cut, color, clarity, and carat weight — contribute to the overall value and beauty of a diamond. Combine the 4Cs of diamond quality with your own visual preferences to find the diamond of your dreams.
Diamond Cut
Understanding Diamond Cut
A diamond's cut — its symmetry, proportions, and faceting — determines how much light reflects out from the stone. In other words, cut creates brilliance, fire, and scintillation. Each of these dimensions combine to determine its beauty and price as cut has the greatest influence over a diamond's ability to sparkle. Meet with your preferred jeweler to understand how a diamond's cut impacts the sparkle of your favorite diamond.
There are three terms to know in reference to diamond cuts: shallow, ideal, and deep.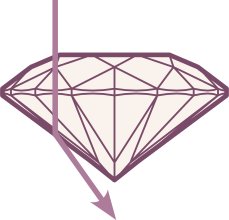 Shallow Cut
Shallow-cut diamonds allow light to escape out of the bottom of the stone which sacrifices brilliance.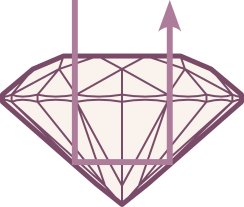 Ideal Cut
Ideal-cut diamonds have optimal proportions and angles which reflects almost all light and maximizes brilliance.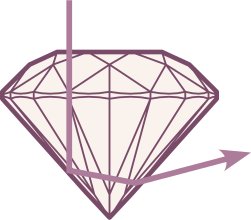 Deep Cut
Deep-cut diamonds reflect light improperly as the total depth and diameter aren't proportional.
Diamond Color
Or Lack thereof
Diamond color measures the absence of color in a particular diamond using the GIA® D-to-Z grading system*, where D refers to colorless and Z refers to yellow. The most popular preferences are colorless (D E F) or near colorless (G H I J). The most common color grade falls between F-H. Understanding what diamond color means helps in choosing the right diamond. A chemically pure and structurally perfect diamond has no hue, like a drop of pure water, and consequently, this translates to a higher value. 
These diamond color distinctions are very subtle. They are invisible to the untrained eye. However, these distinctions make a difference in diamond quality and price. Hence, it is important to get a qualified expert's opinion in evaluating the best color for your diamond.

*Fancy-colored diamonds are graded using a different grading system.
Diamond Clarity
the Absence of Inclusions and Blemishes
To understand diamond clarity, we must first understand how diamonds are created. Natural diamonds are the result of carbon exposed to tremendous heat and pressure deep in the earth for millions, sometimes billions of years. This process can result in a variety of internal characteristics called inclusions. External characteristics are called blemishes.
A diamond's clarity measures the absence of inclusions and blemishes. Inclusions and blemishes are then graded on a scale of flawless (FL) to included (I1, I2, I3). Most inclusions are not visible to the untrained eye but impact the strength of a diamond.
What your eyes see aided by 10x magnification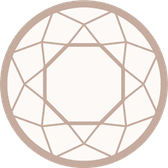 FL–IF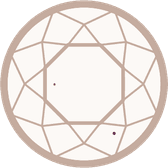 VVS1–VVS2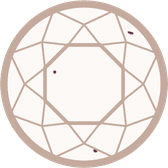 VS1–VS2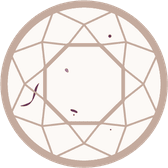 SI1–SI2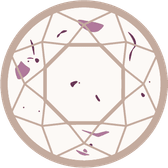 I1–I2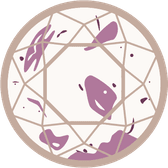 I3
What your eyes are able to detect without magnification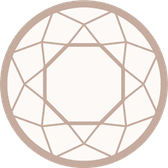 FL–IF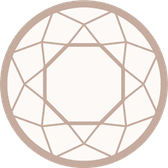 VVS1–VVS2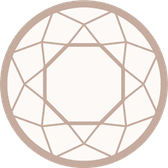 VS1–VS2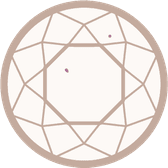 SI1–SI2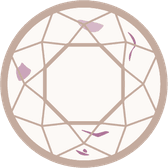 I1–I2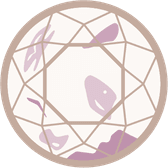 I3
FL–IF
Flawless: No internal or external Clarity characteristics
Internally Flawless: No internal Clarity characteristics
VVS1–VVS2
Very, Very Slightly Included: Difficult to see under 10X magnification
VS1–VS2
Very Slightly Included: Inclusions not typically visible to the unaided eye
SI1–SI2
Slightly Included: Visible under 10X magnification and may be visible to the unaided eye
I1–I2
Included: Inclusions visible to the unaided eye
I3
Heavily Included: Inclusions plainly visible to the unaided eye and could affect the diamond's durability
Diamond Carat Weight
The Proportion and Depth of a Diamond
The carat of a diamond refers to its metric carat weight. One carat is equal to 0.2 grams. Carat is not to be confused with karat, which measures metal purity. Larger diamonds are more rare. The price increases exponentially the higher the carat weight. Diamonds of equal weight are not necessarily the same millimeter size. Different proportions and depths will result in different size and weight combinations.
See the interactive millimeter to carat size refernce in the images shown below. These are meant to show proportions and may not reflect actual carat size. 
While the 4Cs are the most important factors when choosing a diamond, we know selecting a diamond for engagement rings can be very intricate, so we've included additional information to make sure you are aware of all of your options to consider.  See below to explore more about diamond shapes, diamond classification (natural vs lab-grown diamonds), and a diamond glossary.